/
/
/
Meet Mrs. Moser
Last modified: November 6, 2020
Meet Mrs. Moser
Hi, my name is Linda Moser. I was born and raised in Chambersburg, PA. I am number 6 of 7 children. I attended RICKS College and BYU. I graduated with a Bachelors Degree in Elementary Education. I have worked in Provo School District my whole career. I have worked in various areas of education. I worked in computer labs, district technology team, library, and now the classroom. I love the first grade classroom. I thoroughly enjoy seeing the growth and progress of the first graders. I have only one complaint about being an educator; and that is I have a summer birthday. 🙂
I have a wonderful husband, Greg and 4 stepsons. They are a blessing in my life for help and support as a teacher. Greg is a tax accountant at LIberty Tax in Orem. He is my behind the scene teacher aide. The oldest boy, Marcus,is not pictured. He graduated from ISU in Pocatello in Sports Administration and moved to New Mexico for his first job. He is married and has a 2 sons (3 years/6 months). The second oldest, Derek is attending USU in Logan and is studying medicine. He has a lot of schooling ahead of him. He is married to Karina and she graduated in Business Administration in December 2017. Then, Jared is also attending USU in Logan and is studying physical therapy. The youngest son, Tyler, is serving in Villahermosa, MexicoMission. Life is good in the Moser home.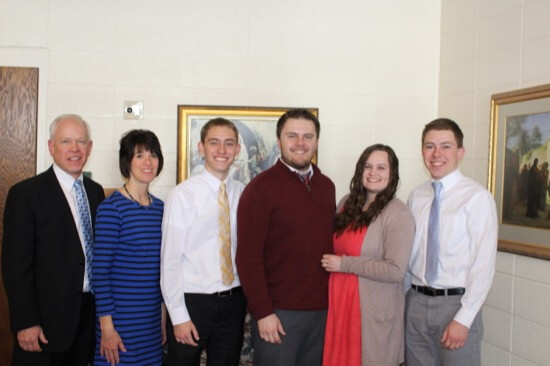 Teacher Tidbits:
Home: Pennsylvania
Birthday: July 7th
Favorite Color: Purple
Favorite Snack: Junior Mints
Dark Chocolates, the darker the better
Peanut Butter M & Ms
Favorite Flower: Roses
Teaching Themes
M = Monkeys
O = Owls
S = Stars
E = Elephants
R = ?