/
/
/
Biography
Last modified: June 22, 2020
Biography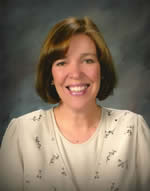 My name is Judy Heaton. I was born and raised in La Grande, Oregon, the 4th child and 2nd daughter of 6. My father, Jack Jensen, was a photographer and brick mason by profession, but aptly, a "jack-of-all-trades" by hobby. I was fortunate that my mother got to be a "stay-at-home" mom. My father loved science and knowing how things worked and wasn't content with just reading about it, but had to build it and experience it first hand. Because of this, I flew in experiemental aircraft as a child, was "shooed" out of my upstairs bedroom while dad was experimenting with x-rays in the basement, and had our home-built swimming pool converted to a planetarium/observatory in our front yard where Dad took countless school groups and scout troops through for their astronomy lessons. Dad built boats and cars and desks and bookshelves and airplanes and gyrocoptors, to name a few. I had a VERY interesting childhood!
I came to BYU where I graduated in Elementary Education with a minor in Music. I interned in the 2nd grade in Payson in the Nebo school district, and taught 1st grade for 9 more years after that until I FINALLY met my sweet husband, Tim Heaton, and married and started our family. I was able to be a "stay-at-home" Mom for 16 years with my 6 wonderful children until my baby, Benjamin, started Kindergarten when I came back to my first love of teaching again. Of my 6 children, my oldest daughter, Jessica, graduated from BYUI with a Music Education degree, and is teaching Kodály music at Canyon Crest Elementary in Provo. My 2nd daughter, Sara, is teaching 4th Grade in the Jordan School District. She and her husband, Derek, live in Herriman, Utah. My son, Jack, with his wife Britney,have my 2 only grandsons and are expecting my 1st granddaughter in October! He works as a Medical Lab Technician at the Mountain View Hospital in Payson. My 2nd son, Eric, is attending UVU in Computer Scienceand is our families Tech Guru! My daughter, Emily is in the first year of her nursing program right now.
she and her husband, Braden, live in Logan, Utah. And Benjamin, my "baby" is serving a mission for our church in the Honduras, Tegucigalpa mission. He will be coming home October 10th of this year! Yay! My husband, Tim, is working at Sykes and is an adjunct math teacher UVU.
While I was a "stay-at-home" Mom, I enjoyed helping out in the classrooms and serving in the PTA and enjoyed serving as PTA president for Grandview Elementary where all my children attended grade school.
When I came back to teaching, I was able to teach 1st grade for one year at Grandview Elementary, but because enrollment was down, the next year I had the opportunity to teach music, which I truly enjoyed! I was trained in the Kodály music program and taught Music for three years and then had the opportunity to come back to 1st grade! I still keep my hand in music by having the opportunity to lead the Lakeview Choir with Mr. McKinney! But, I love 1st grade and 1st graders! Their innocence and enthusiasm energizes me!I am excited to be back in the classroom teaching a grade I love! I almost had the opportunity to teach 3rd grade this year, as the 1st grade enrollment was down, but the numbers started climbing so I was able to continue in 1st grade!
My hobbies include reading and music, watching movies and doing crafts, like knitting, crossstitching and sewing. I enjoy cooking and taking care of my home when I have time, and visiting with friends and family. I enjoy working at Lakeview with the wonderful staff and families here! And I LOVE being a teacher!